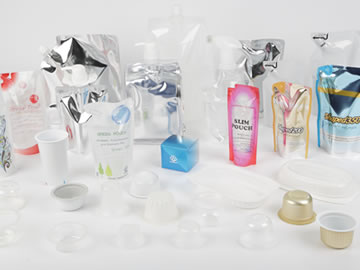 Packaging materials are being used in wide variety of fields, from familiar applications to those usually unnoticed.
We make use of our standpoint as "a group of professionals of materials" cultivated over many years to realize the best "price, functionality, convenience, and design" in products for our customers—mainly in the fields of food, cosmetics, industrial products, and agricultural products—being fully conscious of the "viewpoint of the user." We will continue to provide products with high added value to grow with our customers.
To Our Products page
In view of the consideration for the environmental burden which will increasingly become required, we are implementing a switch to "environmentally compatible materials" such as biomass. We promise to play a part in your contribution to society, not just our own.
We also perform contract manufacturing, mainly for foods and cosmetics. Please make use of our "ability to propose a final product."
The environment surrounding packaging materials, as with other fields, is becoming more globalized.
Please make use of our "global network" centered in Asia and "ability to create proposals at a similar level as domestic" in addition to the export and import of various materials and products. We can help with more than procuring various products but with "increasing the added value" of your company's products.
Business markets and fields
Food

Desserts (jelly, puddings, soft azuki-bean jelly, frozen treats, chocolate, baked treats, etc.)
Drinks (mineral water, jelly drinks, coffee beverages, etc.)
Seasonings (dressings, Japanese sauces, soups, Western sauces, etc.)
Functional food (health foods, nursing-care foods, hospital foods, supplements, non-perishable foods, etc.)
Food packaging (trays, containers, pouches, films, straws, etc.)
Food manufacturing equipment (manufacturing, filling)
Sub-contracted manufacture of food products
Cosmetics & Toiletry

Skincare (toners, lotions, beauty essences, face masks, sunscreens, etc.)
Enhancement makeup (mascaras, blushes, etc.)
Body care (body soaps, treatments, etc.)
Hair care (shampoos, treatments, conditioners, etc.)
Masculine cosmetics (for hair and body, antiperspirants, etc.)
Beauty-supporting foods (supplements, drinks, etc.)
Detergents (laundry, dishwashing)
Cosmetic tools (brushes, puffs, etc.)
Cosmetic manufacturing equipment (filling)
Sub-contracted manufacture of cosmetics
Industrial products

Products for cars (air fresheners)
Electronic instruments
Materials used in processing
Liquid-transporting materials
Various tapes
Testing equipment