In recent years, it has become necessary for companies to establish an environmental management system. Therefore, our company has also established an Environmental Policy in order to respond to the needs of our customers and our social responsibility as a company that trades in specialized chemical products. In April 2004, our Headquarters, the Osaka Branch, Tokyo Branch, Nagoya Branch, and Kiyokawa-cho Warehouse acquired ISO14001 certification. We will continue to make efforts to protect the environment and further establish environmental management.
ISO14001 Certification Acquisition Status
Registration Certification Agency
LRQA
Certification Agency in Each Country
UKAS
JAB
Certificate No.
YKA4002800
Date of First Registration
April 1, 2004
Date of Renewal Registration
March 22, 2019
Office Location
Headquarters / Osaka Branch,Tokyo Branch,Nagoya Branch
ISO14001 Certificate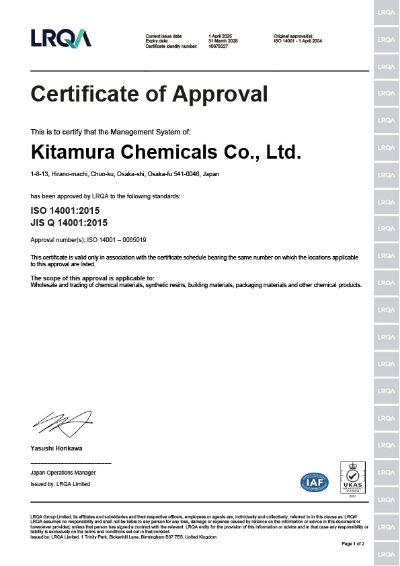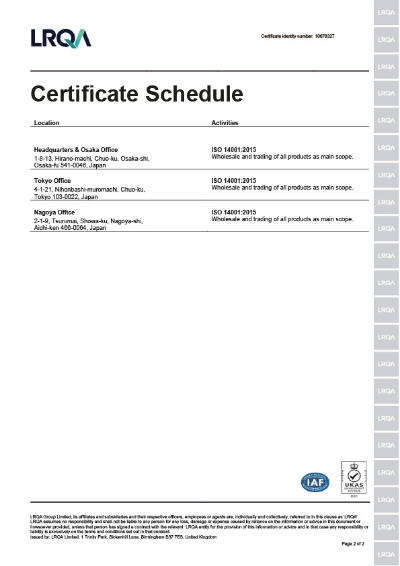 Environmental Policy
Our company has established its position as a specialist trading company in the chemical industry for over 120 years, and we have been making effort to respond to the sophisticated and diverse needs of our customers in recent years by improving our ability to collect information and our technical skills.
As a leading specialist trading company in the chemical industry, we believe that it is our corporate responsibility to manage impact on the environment including our products. We therefore promise to do the following and make effort to continuously improve our environmental management system to prevent pollution.
1) We will comply with all related environmental laws and regulations, company standards, and other requirements to which our company agrees.
2) We will contribute to the environmental protection efforts of our customers through the proper provision of our company's core products including chemical products and building materials, and provision of information related to new raw materials (product information and substitute product information).
3) We will act with an awareness of commodity efficiency and work efficiently in the fields where environmental efficiency can be improved in order to reduce our company's impact on the environment.
4) In order to realize these, we will set environmental objectives and goals, and use this Environmental Policy as a framework for execution and review.
5) This Environmental Policy will be clearly notified to all employees, and will be thoroughly implemented as the guideline for our environmental protection actions.
April 1, 2016
KITAMURA CHEMICALS CO., LTD.
President
Kazuo Kitamura